Runway Tool Review 2023
Updated On

20 September, 2023
Content production has been a major challenge for creative professionals, agencies, and businesses alike. With the demand for creative content seeing a sharp increase in the last few years, it has become imperative, now more than ever, for designers vying for viewers' attention, to produce content that not only attracts, but also engages their audience. 
AI tools have quickly filled the void and paved the way for creators and designers in enhancing their capabilities and offering their audience a much more immersive experience. Among these tools, Runway is a leading name. 
A creative AI platform that offers a versatile tool suite, Runway empowers users by bringing their imagination to life through text. It democratizes access to advanced AI-driven design, making it indispensable for artists, designers, and creative individuals from various disciplines. 
Read on to discover Runway's valuable features and capabilities. 
Pros
User-Friendly Interface
Cloud-Based Software
Integration with Third-Party Apps
Automated Features
Real-Time Reporting
Multiple Payment Options
Affordable Pricing
Cons
Limited Customization
Steep Learning Curve
No Offline Functionality
Limited Inventory Management
Lacks Features for Larger Businesses
Insufficient Customer Support
Subscription model
Discover the potential of Runway with the Free plan!
The free version allows for a maximum of 130 seconds of video creation. This plan also gives you 125 credits for using Runway's features. Although you'll have limited credits in the free version, you can still create up to three video products and store 5GB of assets. However, it's important to note that the maximum resolution in the free version is 720p.
Casual users, hobbyists, and those looking to understand Runway's capabilities without a financial commitment.
Join the ranks of delighted users who have unlocked the full potential of Runway with the Standard package!
For just $12 per month, you'll receive 625 monthly credits. This plan lets you easily remove watermarks from your AI-generated videos along with 100GB of asset storage. You can create videos up to 16 seconds long, with 4k resolution and Green Screen alpha matte capabilities. You can also generate 2k images and have full access to 3D texture options. For those who want even more customization, the Train Custom AI feature allows you to build your own AI generators for videos and images.
Enthusiastic creators, freelance designers, and small businesses looking to elevate their visual content with more advanced AI tools.
Step into limitless creativity and possibilities with Runway's Pro plan!
Priced at $28 per month and with 2250 credits, you'll have the tools to create highly customized, watermark-free AI videos. Plus, you'll get an upgrade from the previous tier with 500GB of asset storage, as well as advanced options like Pro resolution and unlocked video editor compositions. It's easy to use and gives you everything you need to create amazing content.
Professional designers, content creators, and agencies that require high-quality visuals and videos for their projects, with a need for priority assistance.
Elevate your experience with the premier Unlimited plan, starting at $76 monthly. This all-inclusive package encompasses every feature from the previous three tiers, ensuring you have the ultimate toolkit. Moreover, it allows you to generate videos at your preferred FPS (frames per second) or at a more relaxed rate. With a generous allocation of 2250 credits per month and the option to purchase more as needed, you'll have the freedom and flexibility to bring your creative visions to life.
Established studios, enterprises, and organizations with demanding creative workflows require the most comprehensive AI tools and top-tier support.
Key features
| | |
| --- | --- |
| | |
| | With a video editing tool, you can enhance videos with text overlays and images for a unique and stylish look. |
| | AI algorithms can create tailored video narratives from text or images, opening up endless creative possibilities in many industries. |
| | Static images can now become dynamic, immersive videos through specialized software and algorithms. Frames are orchestrated into a visually compelling narrative for a seamless viewing experience. |
| | Advanced video editing can enhance the viewing experience by eliminating blurriness and replacing backgrounds. |
| | Video manipulation tools can now easily remove unwanted elements from the footage, creating a seamless and polished viewing experience. |
| | AI-powered color grading enhances videos with a captivating palette that amplifies the story and blends text prompts with carefully curated hues to create an impactful viewing experience. |
| | Transform footage into captivating slow-motion masterpieces that immerse viewers in heightened temporal perception. |
| | Facial recognition algorithms can detect and conceal faces in video for privacy or visual effect. |
| | Adjusting depth-of-field in videos enhances visual dynamics, providing control over focus and blurring for a refined and cinematic experience. |
| | Automated video editing can segment footage into distinct clips for a structured, cohesive narrative flow, enhancing the impact and engagement of visual content. |
| | Advanced algorithms can now automatically generate a depth map for video content, enhancing the visual narrative and creating an immersive viewing experience. |
| | Motion tracking technology can identify moving objects in video footage and enhance the overall impact by applying dynamic visual effects, interactive elements, or targeted adjustments. |
| | Eliminate background noise with advanced audio processing technology for better sound quality. |
| | With advanced audio editing software, silence can be removed from recordings for uninterrupted playback, maximizing engagement and keeping the content captivating. |
| | Convert video content into written text accurately and efficiently using transcription technology. Extract and manipulate valuable information from visual media for content creation, research, and professional use. |
| | AI algorithms can create video subtitles, making them more accessible and easier for a global audience to understand. This also helps with language localization efforts and expands the reach of the content. |
| | Using language to create original images is now possible through linguistic and visual algorithms. This breakthrough allows for endless creative possibilities in visual expression. |
| | Cutting-edge AI image processing can transform any picture based on text prompts, giving artists and designers limitless creativity and control over their visual content. |
| | Text-to-image technology enhances images with detailed visual renderings from descriptive language, expanding narrative potential across domains. |
| | Advanced image manipulation allows images to be expanded seamlessly for greater compositional flexibility. This invaluable tool enables artists and designers to refine their narratives and elevate their impact. |
| | Set free your creativity with advanced image processing tools that let you reimagine and remix any image, creating a unique and personalized work of art that invites viewers to see things in a new light. |
| | With cutting-edge technology, you can give any photo endless background options. Elevate your visuals and unleash your creativity with captivating scenes that invite viewers to explore new narrative directions. Every photograph tells a story with depth and imagination. |
| | Generate multiple unique variations of one image easily using advanced algorithms, expanding creativity and enhancing visual richness. |
| | Transform old black-and-white photos into vivid, colorful images using advanced techniques. Give historical moments a modern twist and captivate audiences with a fresh perspective. |
| | Advanced image enhancements can improve image resolution, revealing finer details and nuances, resulting in high-fidelity visuals that leave a lasting impression on viewers. |
| | Experience a transformative creative journey using cutting-edge technology to capture intricate 3D models and bring them to life with artificial intelligence, ushering in a new era of immersive visual storytelling. |
| | Our AI technology allows you to create intricate 3D textures effortlessly, giving artists and designers endless possibilities for pushing the boundaries of visual expression. |
| Train a Portrait Generator | Create a bespoke portrait generator with Text to Image using innovative technology and coding. Translate text into visual portraits for unique digital artistry. |
| Train an Animal Generator | Create a custom Animal Generator for Text to Image with your coding expertise and imaginative flair, bringing diverse, captivating creatures to your creative projects. |
| | Create your own generator for Text to Image, unleashing your creativity and technical skills. Bridge the gap between language and visuals and showcase your unique artistic vision with AI-driven image synthesis. |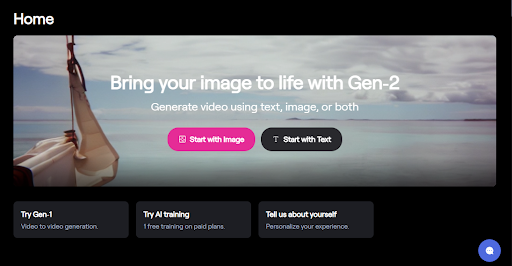 Input Description
To start with Runway, users input detailed prompts with objects, scenes, colors, or unique attributes. Options include AI video, image creation, editing, and noise reduction for creativity.

AI-Powered Processing
Runway uses a powerful neural network extensively trained on a diverse dataset of images and their corresponding descriptions.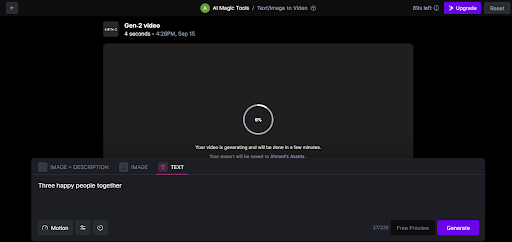 Textual Input Understanding
Our advanced technology carefully analyzes the text you provide, extracting vital information and comprehending the type of image or video you desire.
Image and Video Generation
Runway practices neural networks and GANs, guided by the textual description, to craft images or videos aligning with the prompt. It merges patterns and knowledge from vast training data.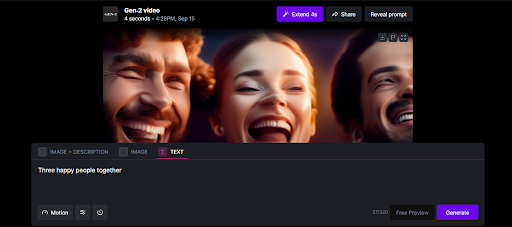 Refinement and Optimization
The software can improve the quality and visual appeal of the generated images or videos, refining and optimizing the results to align with the user's creative vision and meet established aesthetic standards.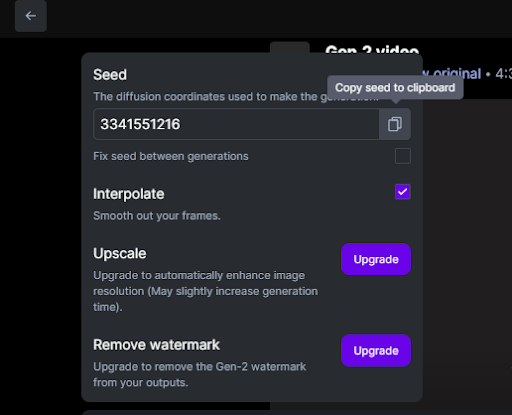 Output Image or Video
Once the process is complete, you will receive an image or video that matches the description you provided. You can use this output for creative projects, design explorations, or generating visual content.
With Runway, you have a lot of choices. You can make AI videos from images or text or generate AI images based on other images or text. It also has advanced editing features like removing backgrounds and other enhancements. This tool is flexible and lets you be creative!
Performance at a Glance
| | | | |
| --- | --- | --- | --- |
| | | | |
| | | | The Runway interface is user-friendly, making it easy for creators at any level to use. You'll find navigating simple whether you're a beginner or have years of experience. |
| | A wide range of versatile features | | With the Runway app, you can access many features that can be used in various ways. The possibilities are endless and depend on your creativity. |
| | Responsive and Knowledgeable | | Their customer support team is always ready to assist you if you need any help. They are quick to respond and have a lot of knowledge, so you can trust that they will give you the best guidance possible. |
| | | | If you're looking for creative tools that are powerful and innovative, Runway is a significant investment. It offers a lot of value for its features and capabilities. |
Who Should Use the Runway App (and Why)?
Creatives, Bloggers, and Content Creators:

Enhance visual storytelling and content appeal.

Businesses (Small to Large):

Elevate marketing materials and brand identity.

Designers and Marketers:

Streamline creative processes and produce standout assets.
Legal Considerations
Comply with copyright laws and licensing agreements.

Avoid generating misleading or harmful content.

Respect the privacy and rights of individuals depicted.
Ethical Use
Avoid offensive or discriminatory content.

Attribute credit appropriately when required.

Adhere to the platform's terms of use and community guidelines.
What are the Alternatives to Consider?
Free limited version,

Starts at $12/month

Invite-only, Free for waitlisted users

Creates realistic images, videos, and 3D stuff

Creates realistic paintings, images, and more

Creates realistic text, images, and more

User-friendly, free version available, versatile options

User-friendly, large assets library, powerful AI

High-quality photos, lots of prompts to offer

Website UI/UX needs improvement

A limited number of credits per month can be expensive

Invite-only, Not all prompts are supported
Frequently Asked Questions
Yes, Runway has a free version available. No credit card is required! 
Runway apps are available on both Apple and Android.
What AI model does Runway use?
Runway uses diffusion to generate videos by adding Gaussian noise to a file and training a neural network to restore the original.
What is the difference between Kaiber AI and Runway?
Kaiber AI focuses on user experience, while Runway emphasizes functionality.
You can access all the features of Runway for free with their available option.
Who is the CEO of Runway?
Cristóbal Valenzuela is the co-founder and CEO of Runway.
How can I use Runway for free?
You can access all of Runway features for free by signing up.
Conclusion
Runway is a creative AI tool that can turn text into captivating visuals, including images and videos. The interface is user-friendly, and the powerful algorithms make advanced design accessible to artists,
About the writer

Madison Testa
Subject Matter Expert, US | Marketing & SaaS
Madison is an IAPWE accredited writer, Hubspot Certified Content Strategist, and digital marketing expert with over 5 years of experience Madison believes in presenting relevant information that provides solutions to people's problems. She knows that readers look out for hard facts, statistics, and statements from credible sources, and that's exactly what she delivers with finesse in her product reviews