Fotor Editor Key Features
Let's dive into Fotor's key features below, showcasing its versatile, AI-powered toolkit. From photo editing to social media branding, see what makes Fotor a go-to choice for creatives.
| | |
| --- | --- |
| | |
| Stable Diffusion AI Art Generator | |
| | |
| | |
| | |
| | |
| | |
| | |
| | |
Stable Diffusion AI Art Generator
Who needs an art degree when you have Fotor's Stable Diffusion AI Art Generator? A text prompt is all it takes to turn your vision into a stunning work of beauty. 
Whether aiming for the minimalistic charm of black and white or the vibrant allure of anime, Fotor's AI takes your cues and generates something that feels tailor-made. It's not just photo editing – it's photo-creating.
Export Options
Fotor's export options are as versatile as they come. Your painstakingly crafted masterpiece can be saved in various formats, including JPG, PNG, and even PDF. This flexibility ensures that the end product is as you envisioned, whether you're printing a canvas or uploading to social media.
Filters and Effects
Dive into Fotor's exhaustive library of filters and effects, a playground so vast you could get lost for days. From mood-altering aesthetic filters to snappy effects like lens flare and magic brush, the possibilities are boundless. Experimentation isn't just encouraged; it's practically a requirement.
AI Tools
Fotor's AI tools are like a Swiss Army knife for your creative projects. Need to remove an object from a photo? The AI does it while regenerating the negative space flawlessly. 
Want to enlarge a photo while retaining its quality? Consider it done. One-tap enhancements can automatically adjust colors, tone, and saturation to elevate your work to professional levels. It's almost like having a mini design studio at your fingertips.
Beauty Effects
Fotor's beauty effects serve as your personal digital makeup artist. Whether you want to smoothen the skin, add a dash of blush, or perfect the shape of eyes and lips, it takes only a few clicks. And with AI effects specially designed for eyes and mouth, you'll look like you just stepped out of a professional photo shoot.
Social Media Toolkit
In the age of personal branding, Fotor's social media toolkit is more relevant than ever. Create custom banners for Facebook, YouTube, or Instagram. Craft avatars that make you stand out. Whatever your social media needs, Fotor helps you present yourself in the most visually compelling way possible.
Photo Editing Essentials
From text tools to built-in templates, Fotor packs all the essentials for comprehensive photo editing. Whether you're adjusting contrast, transforming shapes, or batch editing, the software provides a robust set of tools designed to make your editing process as efficient as it is creative.
Graphic Design Tools
For those times when you need more than just photo edits, Fotor has a dedicated section for graphics design. Looking to make a stylish book cover, an eye-catching logo, or a professional business card? Fotor's design tools let you go beyond photo editing into the realm of pure creation, offering a full suite of features for all your design needs.
How Does Fotor AI Generation Work?
Ever wonder how Fotor makes photo editing and creation so effortless? The secret sauce is Stable Diffusion, a type of AI that understands images deeply. Think of it like an artist who looks at a blank canvas and knows just where to add the right strokes.
In Fotor, Stable Diffusion isn't just for making art. It's integral to photo editing features, too.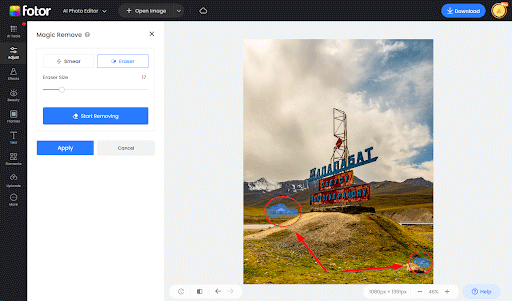 Let's say you have a great photo, but there's a pesky building in the background, ruining the horizon. Using Fotor's 'Magic Remover,' the Stable Diffusion model will understand the surrounding area, erase the unwanted objects, and fill in the gap so naturally you'd think it was never there.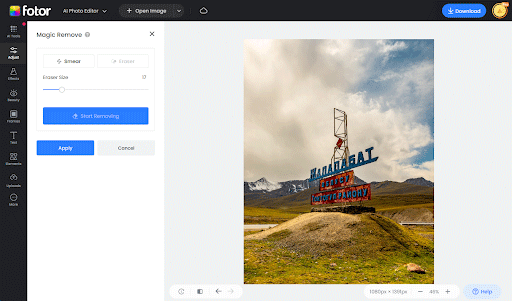 For those who want to create unique art, Stable Diffusion also powers Fotor's AI Art generator.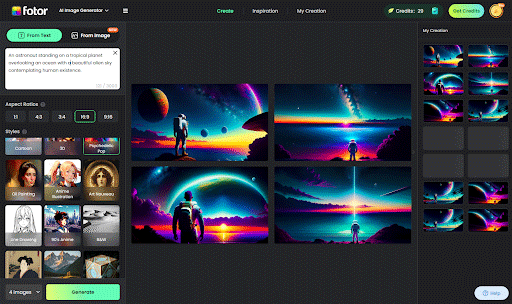 You can write a short text describing an art piece you have in mind or even upload a basic image. 
Stable Diffusion takes this input and turns it into impressive art in styles ranging from Anime to Impressionism.
But don't think Stable Diffusion's powers end at advanced features. The beauty of Fotor lies in its simplicity for everyday photo editing tasks.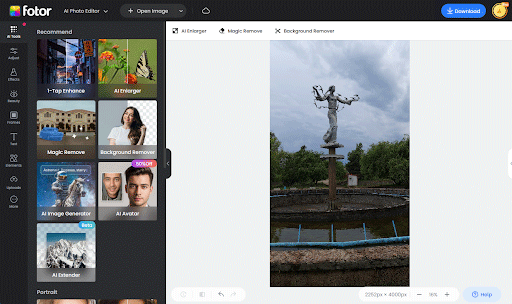 Let's say you've captured a fantastic moment, but the image is disappointingly dark. Don't worry. Your picture is far from ruined.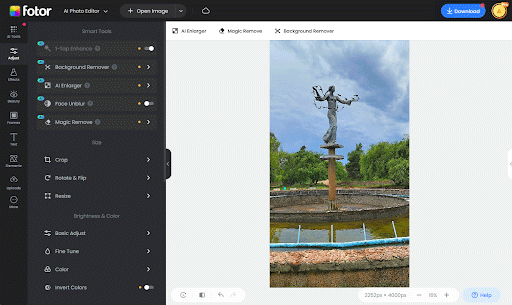 How to edit with Fotor: Step-by-Step
Upload

: Start by uploading your too-dark photo to Fotor's user-friendly interface.

Enhance

: Navigate to the filters and effects. Many options await you – darken, lighten, add a dash of night magic, or even landscape flavor. Choose one that brightens up your image, add some one-touch enhancement, remove any unwanted content, and watch as the AI gets to work.

Export

: Satisfied with the transformation? Click export, and voila! Your once too-dark image is now a masterpiece ready for Instagram, a blog post, or wherever you showcase your life.
Performance at a Glance
In the visually-driven world of social media and content creation, performance is everything. Let's dig into how Fotor fares on some of the most critical benchmarks for any software: ease of use, features, customer support, and value for money.
| | | |
| --- | --- | --- |
| | | |
| | | Highly Polished and Intuitive User Interface |
| | | Feature Rich and Versatile |
| | | Limited to Text/Chat Only |
| | | Excellent Value, Especially if Billed Yearly |
Ease of Use
Fotor is remarkably intuitive and accessible. Its polished interface is devoid of the intimidating knobs and dials you'd find in professional-grade software, yet it packs an impressive punch in functionality. 
This is a tool designed for people who value simplicity and quick results. With an easily navigable dashboard and self-explanatory icons, Fotor minimizes the learning curve and lets you dive straight into creation. The UI is so user-friendly that you could practically edit with one eye closed – though we wouldn't recommend it.
Features
The feature set Fotor offers is rich, particularly when considering its AI capabilities. From the Stable Diffusion AI Art Generator that turns simple text prompts into visual art to a comprehensive array of editing tools, Fotor almost seems like a Swiss Army knife for digital creators. 
It supports multiple file formats, provides advanced filters and effects, and even offers specialized beauty enhancements for portrait photography. However, it does lack some of the more technical features available in professional editing software, meaning it falls just short of a perfect score.
Customer Support
Here's where Fotor stumbles a bit. Its customer support is mostly text-based and not very responsive. If you hit a snag or encounter an issue, you might be left combing through FAQs and forums instead of getting quick, direct help. Given the software's generally smooth operation, this may not be a frequent concern, but the absence can be frustrating when you need urgent support.
Value for Money
When it comes to bang for your buck, Fotor delivers impressively. Whether editing in the field, traveling, or pumping out high volumes of social media content, the software provides a cost-effective solution without compromising quality. 
In particular, if you opt for Fotor Pro or Pro+, the additional features and absence of watermarks can dramatically enhance your creative output. Given the capabilities, the price point is a small investment for what can be significant returns in quality and engagement. And an annual subscription is significantly more cost effective.
Who Should Use Fotor?
Wondering if Fotor is for you? Let's see who can benefit most from this versatile tool.
Influencers
Fotor's beauty effects and AI enhancements make it easy to create eye-catching content. The cloud-based platform is perfect for editing on the go.
Bloggers
Elevate your blog posts with Fotor's custom graphics and templates. From headers to product reviews, it adds a visual punch to your content.
Content Creators
YouTube or TikTok, Fotor helps content creators stand out. Use it for thumbnails, banners, and even unique AI-generated art.
Digital Marketers
Need to quickly create cohesive marketing materials? Fotor's export options and cross-device compatibility make it a go-to tool for digital marketers.
Fotor Alternatives: A Side-By-Side Comparison
Explore how Fotor stacks up against other software options with generative AI capabilities in this side-by-side comparison.
| | | | | |
| --- | --- | --- | --- | --- |
| | | | | |
| | AI Art, Filters, Export Options, Graphic Design | | | |
| | Video Creation, AI Art, Text-to-Video | | Video Focus, Extensive AI | |
| | AI Design, Animation, Templates | | Wide Range of Templates, Animation | |
Lumen5
Lumen5 specializes in converting text content to engaging video, enriched by its AI capabilities. While it doesn't focus on photo editing, its AI art elements can bring a unique visual layer to your videos. However, Lumen5 does come at a steeper price point, making it best suited for those with a heavy focus on video content.
Vista Create
Vista Create (formally Crello) offers various design elements, including AI capabilities for design creation and animation. It's great for marketers and content creators who want a more comprehensive toolset. However, if AI art generation is your primary goal, Vista Create might not fully meet your needs.
Frequently Asked Questions
Yes, Fotor offers a free version that provides access to basic editing tools and some templates. However, the free version has limitations, such as ads and watermarks on your projects.
Can Fotor Replace Photoshop?
While Fotor may not offer Photoshop's depth and range of features, it serves well for basic to moderate photo editing tasks. It's particularly handy for social media-related editing, providing an easier and more streamlined experience.
Absolutely. Fotor features an intuitive interface that makes it simple to perform edits, even if you don't have a background in graphic design. It makes photo editing as accessible as possible.
Can I use Fotor on multiple devices?

 
Yes, you can. Fotor is cloud-based, allowing you to switch between devices without losing your work. This makes it a convenient option for those constantly on the move. You can also install the Fotor Application on Windows and MacOS.
Fotor's AI capabilities are generally reliable for object removal and photo enhancement tasks. However, like any AI-based service, it's constantly evolving, and there's always room for improvement.
Conclusion
Fotor stands out as an accessible, AI-powered photo editing platform perfect for influencers, bloggers, and digital marketers alike. While it may not fully replace professional-grade editing software, its extensive features and ease of use make it a strong contender for quality and affordability. With its AI capabilities utilizing Stable Diffusion and robust photo editing tools, Fotor offers a compelling package for today's visual storytellers.