There are plenty of chat apps available nowadays, regardless of whether you are an Android or iPhone user. Two of the most used chat networks are Signal and iMessage. While Signal is for Android as well as iOS users, iMessage is exclusively designed for Apple device users. In this article, we will learn whether you should use Signal over iMessage or not. and what are the core differences between Signal and iMessage?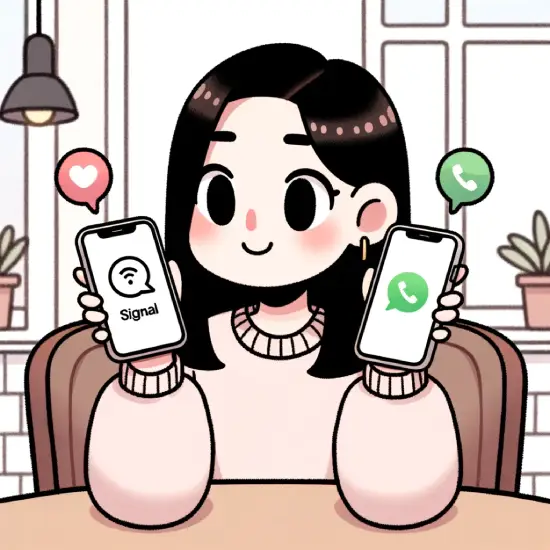 Signal vs iMessage – Which one is more encrypted?
| | | |
| --- | --- | --- |
| Properties | Signal | iMessage |
| Ownership & Development | Developed by Whisper Systems; Open-source | Owned by Apple Inc.; Proprietary |
| Platform Availability | Android, iOS, Windows, macOS, Linux | iOS, macOS, watchOS |
| End-to-End Encryption | Messaging, voice/video calls, disappearing messages, 'Note to Self | End-to-end encrypted between Apple devices; SMS to non-Apple devices not encrypted |
| Data Collection | Minimal metadata; Cannot access message content | Collects more metadata than Signal; Cannot access message content |
| Features | Pre-installed on all Apple devices | Messaging, Animoji, Apple Pay, SMS/MMS integration, third-party app integrations |
| Backup | Manual backup and restore | Automatic backup to iCloud; Encrypted backup stored on Apple's servers |
| User Base | Growing but smaller than major messaging apps | Pre-installed on all Apple devices |
| Interoperability | Only with other Signal users | Communicates with non-iMessage users via SMS/MMS; Loses encryption with non-Apple devices |
iMessage vs Signal
Here, we have provided a detailed list of the pros and cons for both applications and bring to you all that you need to know about the Signal vs. iMessage comparison so that you can judge their merits for yourself.
iMessage encrypted messaging app is a built-in app on an Apple device and is part of the default messaging software. iMessage only works for users sending messages from one Apple device to another, similar to how BBM works for messaging from one BlackBerry device to another. It is, however, capable of sending both iMessages as well as normal SMSs.
If a message has been sent to an Android device from an Apple device through iMessage, the message will be sent as a normal text message, which will be green in color instead of the usual blue. The blue-colored bubbles and messages are iMessage online messages sent and received through your internet connection to and from Apple devices. If there is an issue with your internet connection, a message will be sent as a normal SMS, which will cost you the standard rates as per your carrier.
iMessage Privacy policy
iMessage is designed to protect your information and enable you to choose what you share. iMessage is end-to-end encrypted. The phone number or email address you use is shown to the people you contact, and you can choose to share your name and photo. Apple retains limited information about the use of iMessage, such as whether your device is eligible to use iMessage, for up to 30 days.

iMessage is an Apple service that sends messages to other iOS devices (with iOS 5 or later), iPad devices, Macs (with OS X 10.8 or later), and Apple Watches. These messages don't count against your messaging plan. Messages sent via iMessage can include photos, videos, and other information.
Is iMessage end-to-end encrypted?
Apple has designed iMessage to use end-to-end encryption, so there's no way for Apple to decrypt the content of your conversations when they are in transit between devices. Attachments you send over iMessage (such as photos or videos) are encrypted so that no one but the sender and receiver(s) can access them. These encrypted attachments may be uploaded to Apple. To improve performance, your device may automatically upload attachments to Apple while you are composing an iMessage. If your message isn't sent, the attachments are deleted from the server after 30 days. When a passcode or password is set on your iOS, iPadOS, or watchOS device, stored messages are encrypted on your device so that they can't be accessed unless the device has been unlocked.
You can choose to automatically delete your iMessages from your device after 30 days or a year or to keep them on your device forever. For your convenience, iMessages are backed up in iCloud and encrypted if you have enabled either iCloud Backup or Messages in iCloud. You can turn off both iCloud Backup and Messages in iCloud whenever you want. On your iOS or iPadOS device, go to Settings > [your name] > iCloud. On Mac, go to Messages > Settings > iMessage, and deselect Enable Messages in iCloud.
Pros of iMessage
The first advantage of this application is that it is built-in for Apple devices, so the user does not have to go through the hassle of searching for it in the App Store and then downloading it, and signing up. As with any Apple device, it is completely secure with end-to-end encryption.
iMessage, because of its superior and unparalleled protection, wins the case for iMessage vs Signal encryption comparison. You can just use your Apple ID and email or phone number to use iMessage, and you can see the phone number and email of all the people you contact.
The user interface of iMessage is very minimalistic and clear, typical of the signature style of Apple. The application also supports voice messages, which is of great convenience to users as their speech can be dictated and converted into written text.
If you send an SMS via iMessage, it features a green color, and you are charged with the usual SMS costs. However, if you use Wi-Fi or your data pack, there are no charges for using the instant messaging app between Apple device users. You can send unlimited messages that use a negligible amount of data, and in this case, they are colored blue.
The application is very efficient and well organized as it keeps you informed as to when a message has been sent when it has been read, and also when the other person is typing. iMessage is available for iOS devices with iOS 5 or later, like the iPhone, Mac, and iPad.
Cons of iMessage
iMessage is exclusive to Apple devices, which means it is not available for you if you are an Android user. It may be sleek and minimalistic, but it is not for you if you use anything other than an Apple device.
Signal encrypted messaging app is an open-source software application available for both Android and iOS users, and it is free of cost. Unlike iMessage, Signal never makes use of your normal SMS feature as it solely relies on your internet connection, without which you cannot communicate with anyone via Signal. The receiver and the sender both need to have a strong internet connection to establish a smooth communication line.
In the case of iMessage vs. Signal comparison, there is no chance of SMS charges being levied as long as the app is used for instant messaging.
On the other hand, if you wish to send an SMS through Signal itself, it is possible if you are an Android user. It can be done by replacing your previous default text messaging application with Signal Android to send and receive unencrypted SMS or MMS. These SMS messages go through your data plan, and you will then incur the applicable charges.
Apple users cannot use this feature as Apple devices do not allow other apps to replace the default messaging app. It can be downloaded from the Google Play Store for an Android device with a version that is Android 4.4 or above.
Signal Privacy Policy
Signal utilizes state-of-the-art security and end-to-end encryption to provide private messaging and Internet calling services to users worldwide ("Services"). Your calls and messages are always encrypted, so they can never be shared or viewed by anyone but yourself and the intended recipients.

Information you provide
Account Information. You register a phone number when you create a Signal account. Phone numbers are used to provide our Services to you and other Signal users. You may optionally add other information to your account, such as a profile name and profile picture. This information is end-to-end encrypted.
Messages. Signal cannot decrypt or otherwise access the content of your messages or calls. Signal queues end-to-end encrypted messages on its servers for delivery to devices that are temporarily offline (e.g, a phone whose battery has died). Your message history is stored on your own devices.
Additional technical information is stored on our servers, including randomly generated authentication tokens, keys, push tokens, and other material that is necessary to establish calls and transmit messages. Signal limits this additional technical information to the minimum required to operate the Services.
Contacts. Signal can optionally discover which contacts in your address book are Signal users, using a service designed to protect the privacy of your contacts. Information from the contacts on your device may be cryptographically hashed and transmitted to the server in order to determine which of your contacts are registered.
User Support. If you contact Signal User Support, any personal data you may share with us is kept only for the purposes of researching the issue and contacting you about your case.
Managing your information. You can manage your personal information in Signal's application Settings. For example, you can update your profile information or choose to enable additional privacy features like a Registration Lock PIN.
Pros of Signal
Signal is more secure than iMessage. Signal's security is advanced and features a high end-to-end encryption protocol, which makes every message sent on this application extremely safe and secure. Anyone has the option to audit the code and check the application's security because it is free and open software. You can also choose the option of setting Signal as your default SMS text messenger, but these messages will be unencrypted.
Also, you can conveniently view the media sent in the media folder of the chat instead of having to scroll through the messages to see when it was originally sent. Signal Desktop is a feature that works the same as WhatsApp Web. It is just an extension, and all messages that you send or receive on the phone via Signal will be mirrored.
In addition to the answer to the "Is Signal more secure than iMessage?" question, Signal comes with a "Note to Self" feature, where you can send yourself a message and sync your phone with your desktop.
Cons of Signal
Apart from your mobile device and a desktop, you cannot sign in to any more devices at the same time. Also, the application cannot function without being given access to your phone number and contact list. A signal is unreliable at times as there may be a delay in receiving messages and notifications of sent or read messages.
There is also a bug wherein some applications are unable to read unencrypted SMS messages of Signal as it affects functionality.
Frequently Asked Questions
Is Signal more secure than iMessage?

Signal and iMessage both have brilliant features, and there are flip sides to each application as well, but when we talk about encryption, we ran a survey and asked the users to choose one of these encrypted messaging apps based on which application matches their needs and preferences, and they chose Signal.
What are the key differences between Signal and iMessage?

The main differences are that Signal is cross-platform while iMessage only works on Apple devices, Signal offers end-to-end encryption by default while iMessage encryption is limited, and Signal is open source while iMessage is proprietary. Signal focuses more on privacy, while iMessage has more features for things like group chats and photos.
Which app is more secure and private?

A signal is considered more secure and private overall due to having end-to-end encryption enabled for all conversations. iMessage only enables E2E encryption for iCloud logged-out chats between Apple devices.
Can I use Signal on iOS and Android devices?

Yes, Signal has apps for both iOS and Android. This cross-platform support makes it easy to communicate across devices. iMessage is only available on Apple iOS and Mac devices.
Does iMessage work better than Signal for group chats?

Generally yes. iMessage has better support for larger group chats with features like naming groups, @mentioning others, pinned messages, media sharing, and more. Signal group chats are more basic.